Annually the morning of Thanksgiving Monday, temporary road detours and traffic control measures occur on Granville Island and around the race route in Vancouver, BC. There are no road closures for the Virtual Race.
On the race day of Thanksgiving Monday, there is no vehicle access to Granville Island from 8am-9:30am, plus there are various other road impacts as noted below.
The non-profit Vancouver International Marathon Society RUNVAN® would like to advise residents and business owners of temporary road closures and traffic control measures to accommodate the event every year. Thank you for your patience and cooperation. Please arrive early to the Start Line if you are running. Free parking is available on race day until 1pm.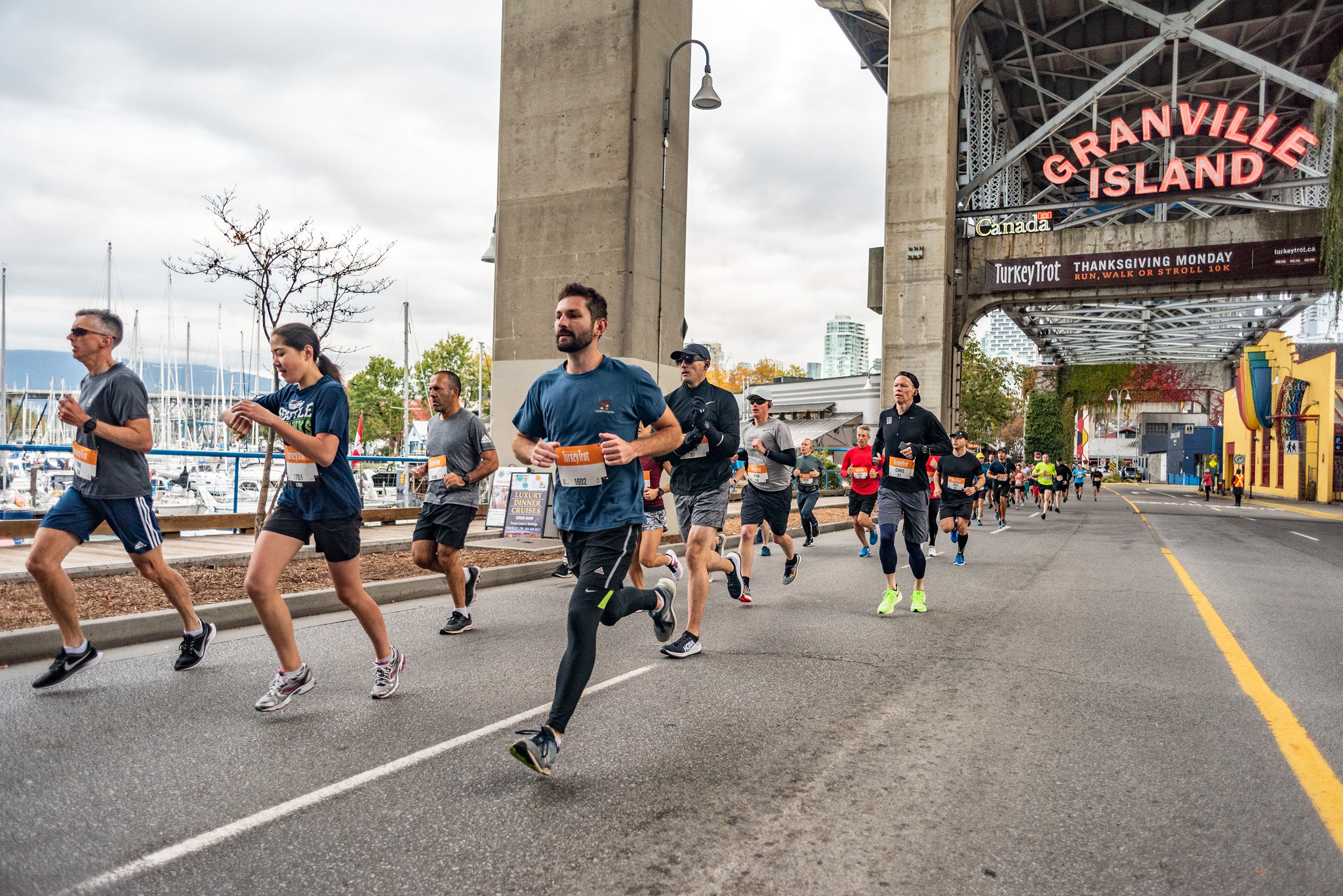 A hallmark event
The Granville Island Turkey Trot is an annual event that brings together community in a celebration of Thanksgiving and giving back to others. This scenic and fast 10KM race starts at Granville Island and loops over the Burrard Bridge to the Seawall, before turning at Science World and heading back along the Seawall to the energetic Finish Line on Granville Island. Partial proceeds go to your local Food Bank.
Granville Island
Granville Island will be closed to vehicle access from 8am-9:30am on Thanksgiving Monday.
W 1st Ave to Creekside Dr
W 1st Ave from Burrard St to Creekside Dr is closed to vehicle access from 8am-9:45am on Thanksgiving Monday.
Runners leave Granville Island, traveling West on Island Park Walk and continue onto Creekside Dr, then turn southeast onto Pennyfarthing Dr. At the corner of Pennyfarthing Dr and W 1st Ave, runners turn south onto W 1st Ave to continue northbound on Burrard St.
Burrard Bridge
Burrard Bridge Northbound is closed to vehicle access from 8am-9:45am on Thanksgiving Monday.
Hornby Street
Hornby St between Pacific St and Beach Ave is closed to vehicle access from 8:15am-9:45am on Thanksgiving Monday.
At Pacific St and Hornby St, runners turn south onto Hornby to head towards the seawall. Motor vehicles will not be able to cross Beach Ave at Hornby St. during the race on Thanksgiving Monday. Please use caution when driving in the affected area during this time.
The non-profit RUNVAN® Society takes your safety seriously, and we respect the neighbourhoods through which we run. Thank you for helping us provide a quality route to showcase our impressive Vancouver community.
Traffic control personnel will be stationed at major intersections and access points along the race route to safely manage and redirect traffic. Motorist that need to travel during these times are advised to plan ahead for potential delays and stoppages on the affected route. If you or someone you know lives along the course, or if you are traveling to and from Vancouver for the event, please be aware that street closures will take place on Race Day as noted above. Safety is everyone's top priority. Thank you. Free parking on Granville Island is provided until 1pm on Thanksgiving Day Monday.