Registration
Annual Thanksgiving Tradition
The Granville Island Turkey Trot is a hallmark event for Granville Island and the Vancouver run community. The annual event brings together runners in a celebration of Thanksgiving, demonstrating our community of running, our gratitude for the sport, and our commitment to supporting others. This event continues to support local Food Banks as runners may donate or run and fundraise for local Food Banks. This year, run a virtual 5KM, the in-person 10KM, or combo races for the 'Double' and a bonus medal! Thanksgiving Tradition, the Granville Island Turkey Trot continues on Monday, October 9, 2023.
Your Granville Island Turkey Trot race entry includes lots of great bonuses, and runners may continue to support our local Food Bank partners: Greater Vancouver Food Bank, Surrey Food Bank, plus SHARE Family and Community Services. Runners have the opportunity to fundraise for charity partners and the public may donate directly through the race.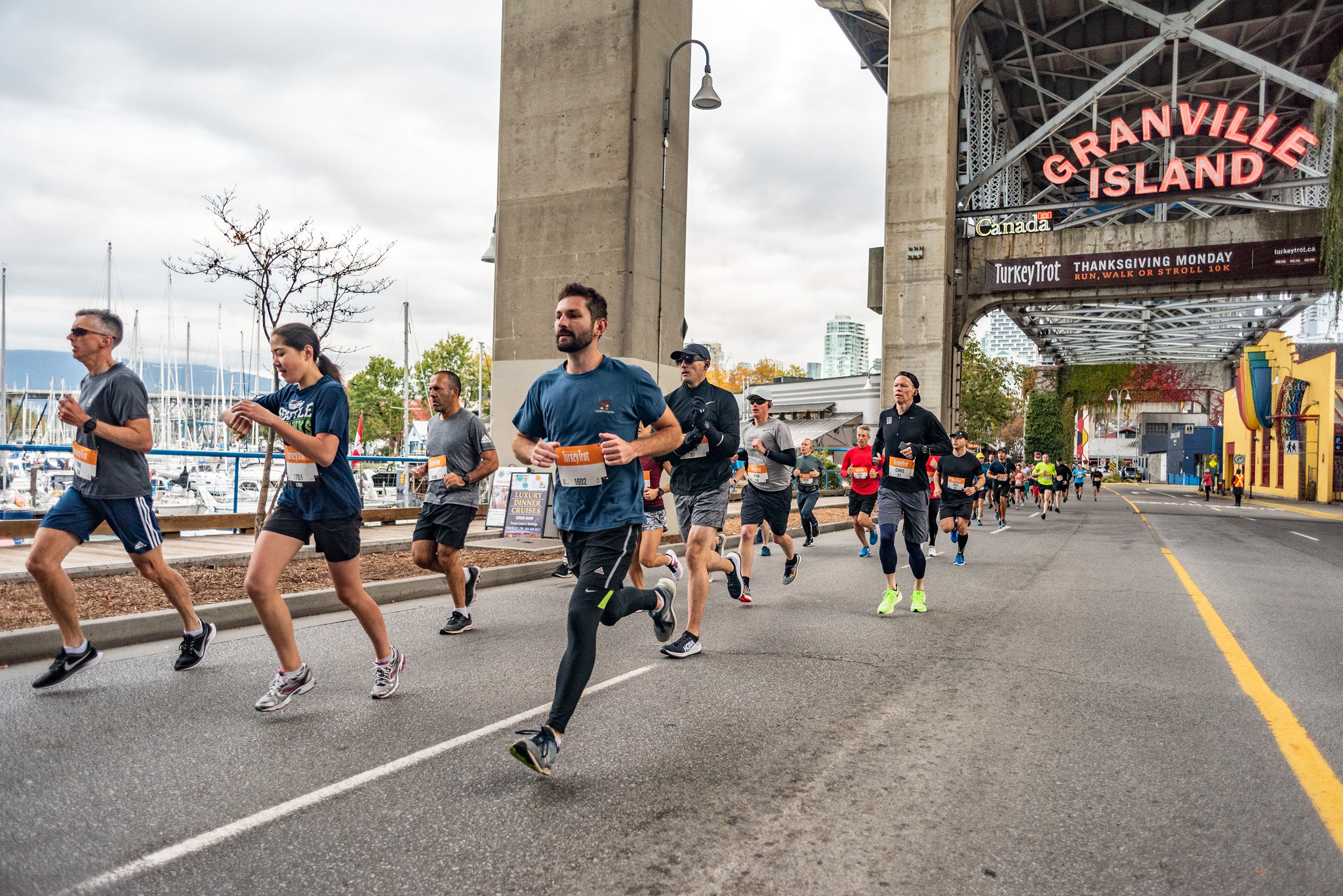 Pricing
PRICES ARE SET UNTIL THE NEXT PRICE INCREASE, SPACE PERMITTING. FOLLOW FOR UPDATES @runvancanada
Pricing is subject to change and spots are limited. Register now to secure your spot on the Start Line! 
Rackets & Runners can help get you 10KM ready! Weekly group workouts for all abilities are available. Join the Rackets & Runners Run Club.
2022 Included
Measured and marked courses if In-Person
Race Bib with Timing Chip if In-Person
Race Medal included with the 10KM In-Person Race
Combo Medal if you run 10KM, plus 5KM Virtually
Non-technical socks with the 10KM + 5KM Combo
Ability to add or skip medals with the Virtual Race
$25 off at Rackets & Runners (min. $75 spend)
Options to donate and fundraise for charity
Race Results, leaderboards, and more
Double
Run the 5KM Virtual, October 1-15, plus the 10KM in-person on Thanksgiving Monday! Stay motivated with double and you'll also receive a bonus medal and RUNVAN® socks!
2.5KM, 5KM, 10KM, 15KM Combo
In-Person 10KM
Virtual 10KM
Virtual 5KM
Combo 5KM + 10KM
Kids Virtual Run 2.5KM
Participants are welcome to run, walk or stroll at this fun, family-friendly 10KM. Prizes are eligible for 'best costume' and 'largest team'. Grab your friends and family and join in on this fantastic Thanksgiving Tradition! #runvan